Corn is a typical fire energy grain and it suits perfectly hot climates and the hot season. It is a fantastic comforting yet light dish to make for your friends or yourself on a hot and steamy spring or summer night.
For 4 people
Preparation time: 35 minutes
Waiting time: 15 minutes
For the cashew cheese:
75 gram cashews
1/8 tsp of salt
1 tbsp fresh lemon juice
1 tsp salt
1 tsp olive oil
100 gram polenta
1/2 courgette, cut into round 1 cm slices
1 tbsp oil
Salt and pepper to taste
10 green asparagus
75 gram broccoli, cut into florets
70 gram red pesto (store bought)
Soak the cashew in enough water to cover them a few cm above the water, for 30 minutes or as long as you care, up to 24 hours.
In a sauce pan, bring 500 ml water a boil, add the salt and oil. Slowly mix in the polenta while constantly stirring with a whisk to avoid formation of clumps. When all the polenta is stirred in, cover and allow to simmer for 10 minutes. Stir with the whisk once in about every 1 minute. Spread over a baking tray, laid with parchment paper, into approximately 20 cm bottom round or into 5 small rounds.
Preheat a skillet pan with 1 tbsp of olive oil, place the courgette slices and sauté for about 1 minute on each side on a medium-high flame. Place the slices on top of the polenta bottom. Repeat the same with the asparagus.
In a sauce pan, bring 500 ml water to a boil. Add a pinch of salt and the broccoli florets. Boil for about 1-2 minutes till the structure becomes slightly softer and the green color intensifies. Discard and wash under cold water. Place on the polenta bottom in a nice formation.
In a kitchen machine blend the soaked cashew, lemon juice, salt and 3 tbsp of the soaking water (or regular one) until almost smooth. Place in small round shapes on top of the polenta bottom.
Place the pesto in small rounds on the polenta bottom. Sprinkle with a little olive, salt and pepper. Bake in an oven that was preheated to 180 degrees for 15 minutes. Cut into triangles and serve.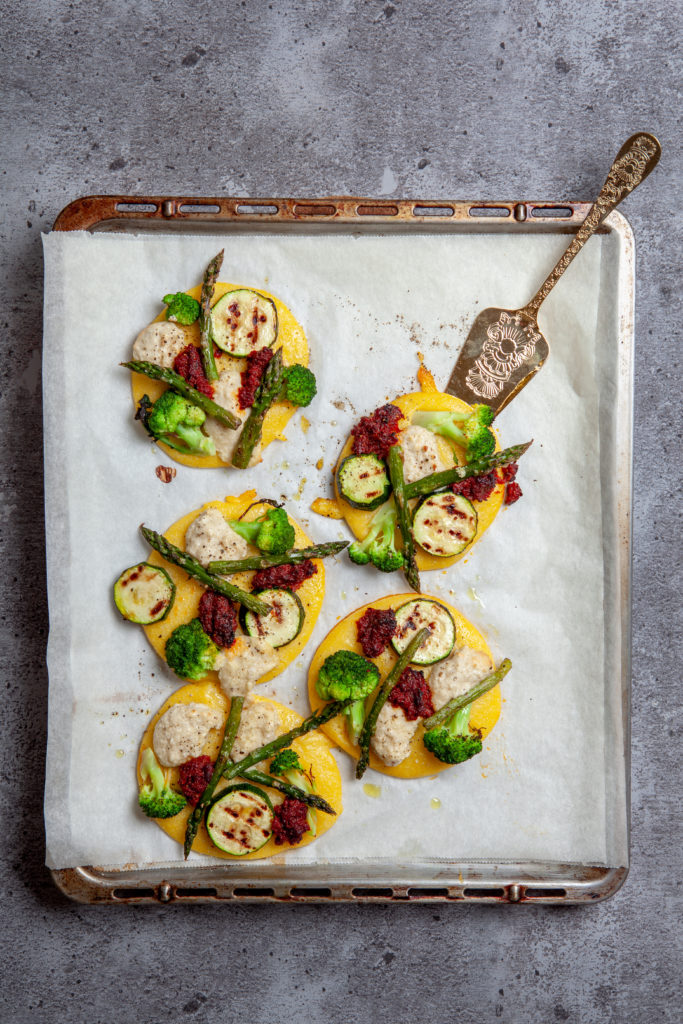 Photo: Vera Bos