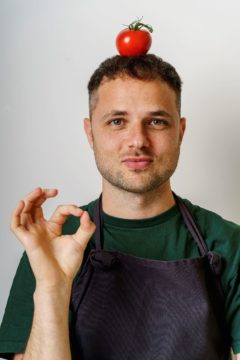 Alexander Gershberg is a chef, cooking teacher and cookbook author. Since 2011 his mission has been to inspire the world to eat more healthily and for healthy food to be more sexy.
His first cookbook Vegan for Friends was published in Dutch in May 2017. His second cookbook Energy, also in Dutch, was published in November 2019 and named best vegan cookbook of the year in the Netherlands. His third book Plantbased was published in Dutch in January 2022 and in English in January 2023.
Alexander grew up in Israel and he has been based in Amsterdam since 2006. Alexander has developed a unique cooking style inspired by his native culture together with a healthy approach to cooking and nutrition. His dishes are colourful, original and very varied in his use of different flavours, ingredients and cooking techniques. The result is always intriguing, surprising, "feel good" nourishing and very delicious.
The ingredients Alexander uses are 100% vegan and organic, preferring locally grown vegetables and whole foods rather than processed and commercially refined foods. Alexander believes that by eating in this way, people will be happier, healthier and live more in harmony with other people and their environment.
"The recipes of Alexander are full of love and power. They feed you, on all different levels. Basic ingredients, easy to make, very tasty. Yummy. My kids recognize this. They love what I cook from his books. All time favorite: apple cake (kids love to make this themselves) and his Borscht."
Elsbeth Tijssen, photographer, Venusian Kitchen, The Netherlands
"Cooking with Alexander showed me how easy and gratifying vegan cooking can be. I enjoy making these recipes over and over again."
Rolf Snoeren, fashion designer, Viktor & Rolf, The Netherlands
"I am not vegetarian and usually my parameter for choosing food is the amount of pleasure I get from it. The food that this young charming guy made was extraordinary!!! Highly recommended – a rare recommendation about healthy food from a usually pure carnivore"
Maya Schnaidman, guest, Israel
"Alexander is one of the most inspiring people I've met. Food-wise he's a genius. He's willing to push borders and boundaries and he's a perfectionist from top to toe. Besides that, Alexander likes to create and share his ideologies with the world, telling people about food in a very pleasant way."
Christine Burgemeester, founder and director of Vegetafel, The Netherlands
"Having you and your sister with our family for Christmas was such a pleasure!
Your beautiful plates and the fantastic food were the main attraction of our holiday. You made everybody happy: long time vegans and vegetarians, kids as well as skeptical omnivores! Our meat-eating friends from Colombia couldn't believe they were liking it so much. My in-laws were so much looking forward to each meal that they barely left the house during 3 days!
As for me, a veteran vegan, I had no idea there was such a variety of foods I still hadn't tried. I learned so much: the experience of the morning miso broth and quinoa porridge, the infinite combinations of salads and the subtle use of seaweeds, the sushis, wraps, tempuras and satay variations were a delicious education and an eye opener on the possibilities of good, wholesome, healthy, balanced vegan cuisine.
Bravo! Encore!"
Mara Bertelli Sanz, Director Yoga Roof, Switzerland
"We enjoyed a lot, especially kids were over the moon as they really liked the way you involved them and provided them with tips and secrets on how to become amazing cooks. You made my 40th Birthday really special and this will be one of the experience we are going to talk about for many years to come. Happy memories. Thank you so much."
Abhinav Jain, Product Manager, NL/India
Major projects:
Founder and head chef, The Chromatic Dinner, various locations
Product consultant, Dr. Oetker
Leading teacher, The Kushi Institute of Europe, The Netherlands
Head chef permaculture farm, Ferme du bois Le Comte, Belgium
Private chef for CEO office, Vimpelcom
Caterer wedding Agnieszka Brugger (German parliament member)
Caterer, Partij voor de Dieren
Guest chef, Absinth restaurant, Osaka, Japan
Founder and head chef, Steinbeisser experimental gastronomy
Founder and curator, Women's cooking project
Check out Alexander's cookbook Plantbased:
In 2018 Alexander was the chef and creator of a culinary design experience called the Chromatic Dinner which toured globally at the most prestigious design festivals in Los Angeles, Seattle, Dubai, Beijing, Antwerp, Amsterdam, Rotterdam and more. In the video below you can get an impression and you might even spot Tyra Banks among the guests at our Hollywood event.
Here Alexander teaches you how to make an easy wakame stir-fry from his cookbook Plantbased: