Many people have been telling me lately that they keep repeating the same recipes and getting bored with them, with very few ideas for new ones. This is not surprising considering that we've been cooking so intensely for ourselves over the last two years in our own kitchens with so little input and inspiration from the outside world. Normally we would get new ideas by visiting friends for dinner, travelling to other countries and trying the food there or by eating in a new restaurant, but over the last two years these experiences have been so limited for most of us.
I must admit that I recognize this feeling of not knowing what to cook and settling for a lousy meal just because I lack inspiration. So here are my tips, tricks and ideas that guide me in these desperate times:
1. I always have in mind that the meal should contain grains, beans and vegetables to be complete nutritionally. If I'm not inspired to cook anything fancy, I would cook one pan with a whole grain (brown rice, buckwheat, millet, barley, quinoa etc.), one pan with a legume (beans, lentils, chickpeas etc.) and in one pan I would boil or sauté a few different types of vegetables (root vegetables, sweet round vegetables and green vegetables). Next to that I would make a little tahini sauce (tahini, water, lemon and salt to a mayo-like consistency) and serve it with the vegetables to give them a nice creamy feel. Sometimes I add a small salad and serve some pickles if available.
This is probably the most boring meal you can make. On the other hand, if the veggies are organic, it will always taste good and at least you know that you're eating something really nourishing and healthy. This meal will bring you back in balance and maybe next time you will be more inspired.
2. But wait, how can I get inspired and avoid cooking a boring meal to start with? Well, what I do is I go to the farmers market in Amsterdam every week and get plenty of fruits and vegetables that I am not familiar with, in many different colors and shapes. I put them in my kitchen or on the balcony and every time I need inspiration for a meal, I look at what's there, see which one talks to me and improvise a meal with what there is. I imagine that I'm a painter or an artist creating with these materials and I allow myself to go with my creative flow without knowing where it will lead me. So basically, get inspired by the colors, shapes and tastes of the amazing fruits and vegetables that you buy from the farmer or organic shop.
3. Another source of inspiration is to ask myself "how do I feel today?". For me food connects strongly to emotions and the way I feel. Do I feel tired? Then I will cook something strengthening and maybe stimulating. Do I feel emotional or sad or agitated? I will cook something comforting, sweet, round and soothing like a nice chickpea stew with a lot of winter Do I feel a lack of inspiration and joy? Then I will cook something uplifting and stimulating with tomatoes, spices, colors, greens and a lot of freshness and so on and so forth.
4. Another thing that inspires me to cook is people. If I'm feeling stuck then I will invite friends for dinner and cook for them. I have the image of the person I'm cooking for in my mind and I start to imagine, what would this person like to eat? What dish will fit them? What energy would I like to give this person through the food? How can I express my love to this person through the food? Does this person need a schwung of energy? Do they need something relaxing and soothing? Do they need something inspiring in their life? I am always amazed at how I tend to cook completely differently for the different people in my life. In the end your friends or family will be grateful for your food and you will be grateful to them for bringing life into your cooking. Anyway, I always find it easier and more inspiring to cook for other people.
5. Another thing that has inspired me over the years is to go to cooking classes. Just to see how a different person is cooking and what kind of ideas they come up with. To get myself out of my cooking routine and habits and to taste someone else's food. After a cooking class or a cooking course I'm always full of inspiration for new recipes, new energy and new ingredients and tastes in my kitchen.
6. Last but not least, I can't help myself from mentioning that I've written a new cookbook called Plantbased which is full of new cooking inspiration, ideas, recipes and tastes. I heard from people who bought it that it has really solved this problem for them and given them new inspiration and ideas in their kitchen. I hope it can also inspire you in the same way.
That's it for now. I hope this will give you some new input to cook some delicious new recipes.
And what about you? What inspires you to cook? What do you do when you're out of ideas? Curious to hear!
Love,
Alexander.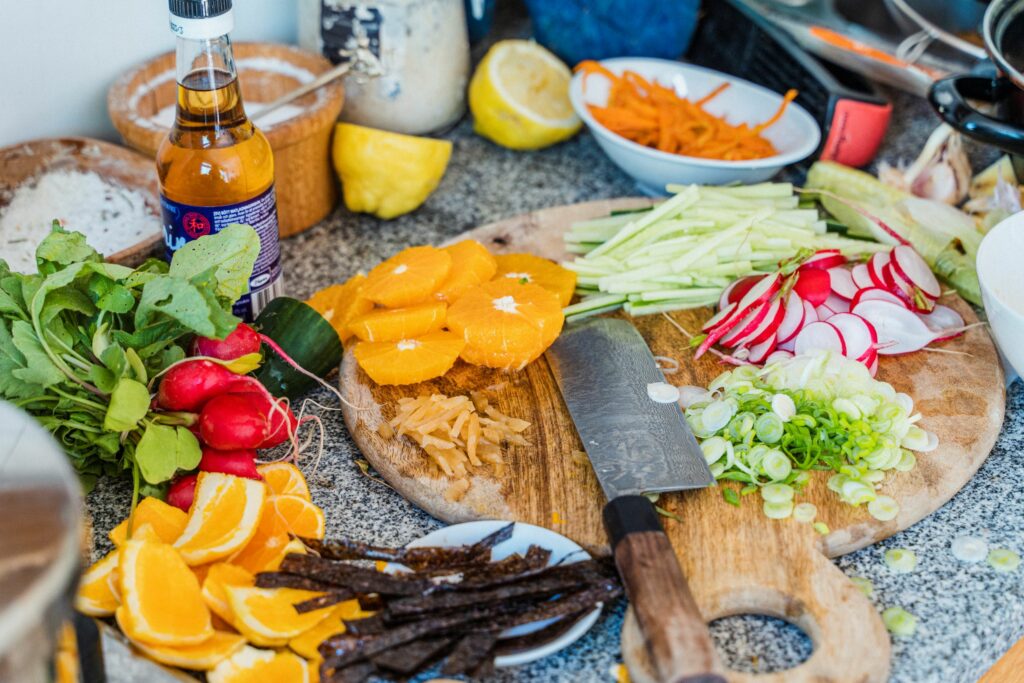 Photo: Yannick van Leeuwaarde for PLANTAARDIG