Serves 4
Preparation time: 20 minutes
Wait time: 30 minutes
Parsnips are definitely one of my favourite vegetables. I only discovered them when I moved to the Netherlands. If you prepare them in the right manner, their texture and sweet taste will be satisfying and pleasant. You'll be surprised how well all the different textures and tastes in this salad combine. What is revolutionary for me about this recipe is the discovery and renaissance of these old-fashioned vegetables. It still surprises me how wonderful they taste with a little help from some southern European and Asian friends. This salad is golden, it's green, it's rich, sour and umami. It's a dish you absolutely can't miss!
INGREDIENTS
• 4 large parsnips (about 800 g/1 lb 12 oz), cut into 3–4 cm (11/4–11/2 in) chunks
• sea salt
• 135 ml (41/2 fl oz) olive oil
• 1 teaspoon ground coriander seeds
• black pepper
• 600 g (1 lb 5 oz) turnip greens, roughly chopped (or use rocket/arugula)
• 1 tablespoon mirin
• 200 g (7 oz) feto (fermented tofu), crumbled
• 100 g (31/2 oz) pitted black olives, roughly chopped
CORIANDER DRESSING
• 30 g (1 oz) coriander (cilantro) leaves and stalks
• 30 g (1 oz) parsley leaves and stalks
• 90 ml (3 fl oz) olive oil
• 1/2 teaspoon sea salt
• 4 cm (11/2 in) long green chilli, chopped
• 4 cm (11/2 in) long red chilli, chopped
• 2 garlic cloves, sliced
• 60 ml (1/4 cup) freshly squeezed lemon juice
METHOD
Preheat the oven to 180°C (350°F) fan-forced.
Bring 1.5 litres (6 cups) of water to the boil in a large saucepan. Add the parsnip and a pinch of salt and boil for 5–6 minutes, until just tender but still al dente. Drain and transfer the parsnip to a baking tray and add 90 ml (3 fl oz) of the olive oil, the ground coriander, 1 teaspoon of sea salt and a generous grind of black pepper. Toss to combine, then transfer to the oven and roast for 30 minutes until the parsnip is a deep golden brown.
Meanwhile, to make the coriander dressing, place the coriander, parsley, olive oil, salt, green and red chilli, garlic and lemon juice in a blender or food processor and blend or process until well combined.
Heat the remaining 3 tablespoons of olive oil in a large saucepan over high heat. Add the turnip greens and a pinch of salt and sauté for 1 minute. Add the mirin and sauté for a few seconds, then remove
from the heat and strain off any water in the pan.
In a salad bowl, add the roasted parsnip, turnip greens, feto, olives and coriander dressing and toss to combine. Serve immediately and be amazed at how fantastic this dish tastes.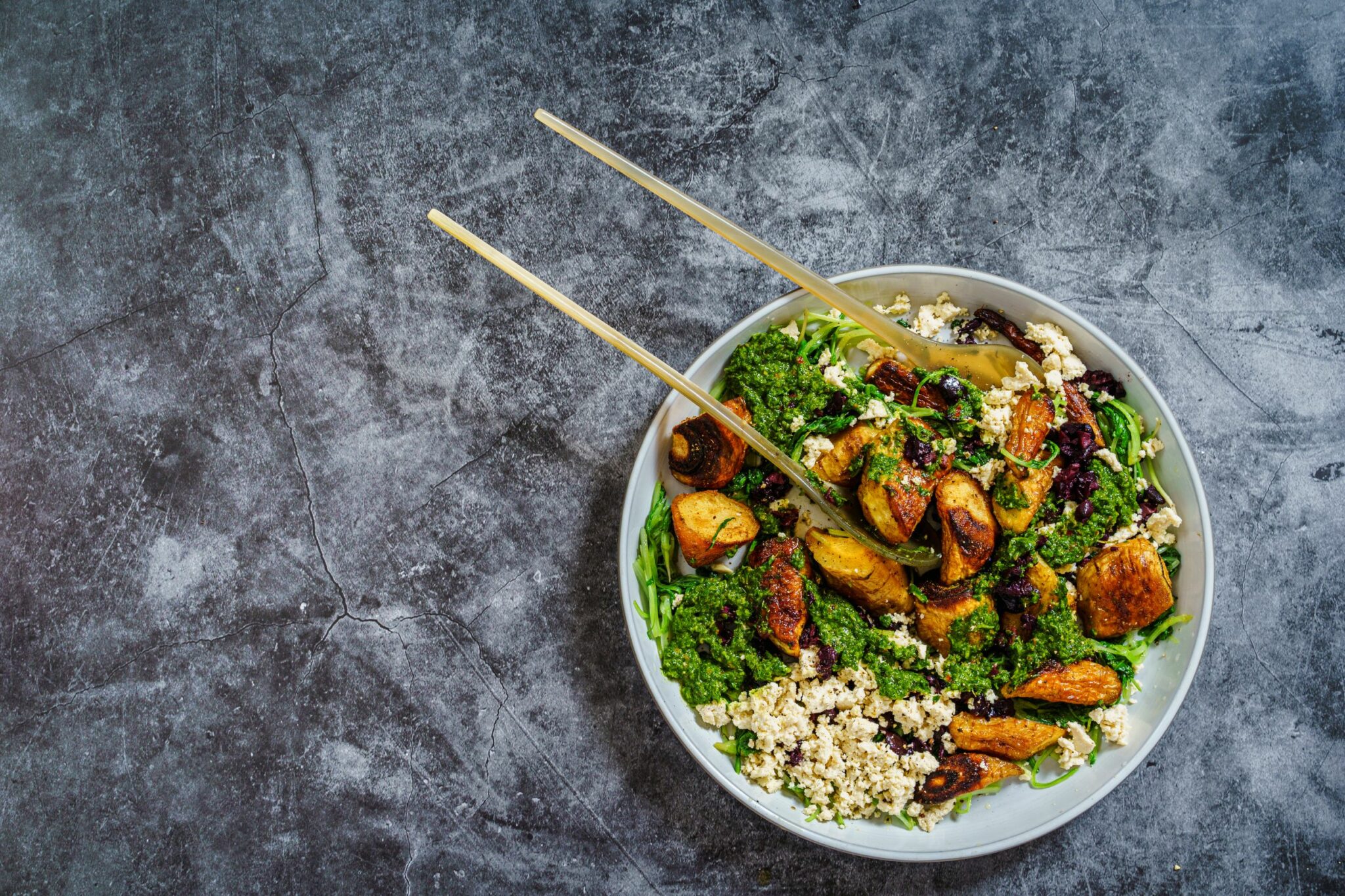 Photo: Yannick van Leeuwaarde
This recipe is from my new cookbook PLANTBASED which will be published world-wide in English on 2nd of February 2023. In the book you can find 80 delicious and healthy plant-based recipes just like the one above.